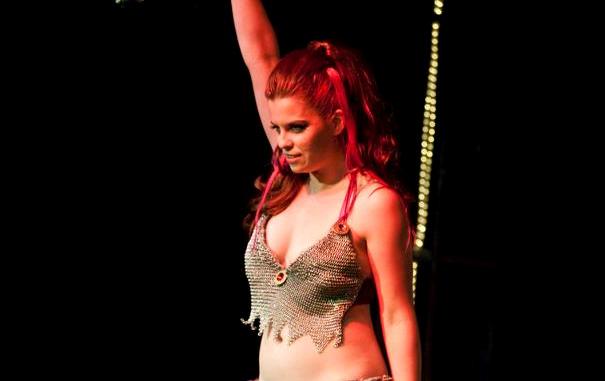 © Photo by Casey Campbell Photography, Performer Sophie Maletease, Chainmaille by Kittensoft Chainmail
Image Tools
Chainmaille Top for Burlesque Performer

I was commisioned by Sophie Maletease for this burlesque outfit. She does Geeklesque performances here in the Pacific NW.
This top, and matching panty in the bottoms gallery, were made out of 18 gauge wire wrapped to 3/16" ID ring. The entire outfit took over 10,000 rings.
She wanted to replace the knitted yarn false chain she had been using, with real chaimaille, She provided the bra and panty, and I basicly filled in the form. When I had it fitted properly, she sew the chain onto the garmets herself, and it came out looking, I think, quite striking. The BA shines well under stage lights, and the loose bottom edge on the bra swing and moves like only real chainmaille can!
Copyright
© Photo by Casey Campbell Photography, Performer Sophie Maletease, Chainmaille by Kittensoft Chainmail
---
Photo Information for Chainmaille Top for Burlesque Performer