Quasar Pattern Marble Pendant - Side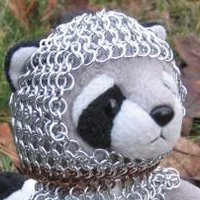 Not exactly a "cab" but close enough. The rings and marble size are very picky. It can easily become too tight, but the slightest looseness that lets any ring change position will cause the marble to fall out.
Rings used: 18ga 3/16", 18ga 1/4", & 16ga 5/16".
Copyright
© Sneath's Chainmaille 2015
---
Photo Information for Quasar Pattern Marble Pendant - Side