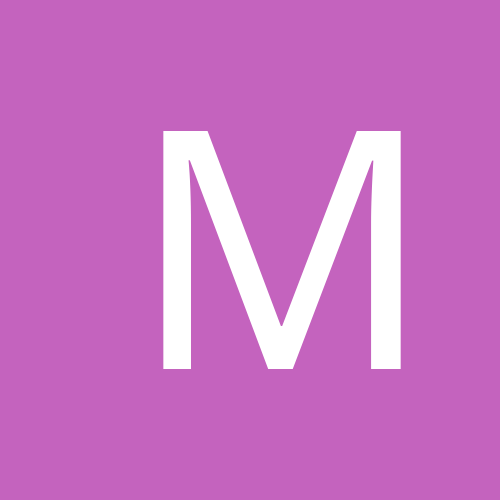 Content Count

22

Joined

Last visited
MobileRez replied to MobileRez's topic in Discussion

Been talking your guys advice from here. Got over ky nerves and made a duct tape model to work with and will be starting the other side as soon as I finish a few more rows to see if that helps change the neck to more of a V or not. Now it's figure out when and how to do the join for under the arms and start on the back. What do you all usually do for this? What to you do for stabilizing the duct tape model? It keeps falling over and I'm looking for a good rotating base to put them one and secure them to (but also is reusable) and allows for extra length of I need it past the bottom of the model.

MobileRez replied to MobileRez's topic in Discussion

About to finish the one side and work on the other. Something about how this sits and hangs is bothering me but I can't put my finger on it quite yet. I'm hoping that when I start on the other side it will reveal it's self. The instructions for the 90 degree weave I found are for a slightly different weave so what I think I am going to do to start is work the other side off the same holders and that will give it a similar look to the shoulders I'm making as far as how the front and back are joined but I'm worried that it may not be strong enough for the entire piece once I add more weight to it. I am thinking of doing a row of scales from the neck out like the 90 degree weave would be to give it strength but I'm guessing I'll figure this out once I get farther into the process. Thoughts so far on where I am from experience?

MobileRez replied to MobileRez's topic in Discussion

Yes I made a scale flower in my car while waiting for someone to get done with working and an order to arrive. My first attempt with that environment was horrible I weaved multiple rows together. The responses are interesting. Mostly it's "that's cool" but there is also "I wouldn't have the patience for that" or my favorite "why would you want to do that(mailing), seems pointless"

MobileRez replied to MobileRez's topic in Discussion

I agree. I ask some of these questions as you learned some of these things. But at the same time there is stuff I can't learn by asking a question, but by doing. For example. Trying to make scalemail in a moving car, or by just the light of a tv, and coming back to see what I really ended up doing and having to fix it

MobileRez replied to MobileRez's topic in Discussion

the 45 degree link, is that just normal way but rotated and put together with another side or is it a slightly different way to do the links. I cant tell from the pdf pictures and there's not much info about it in the description. i found where https://www.mailleartisans.org/articles/articledisplay.php?key=31 was linked for showing chainmail not scale so im trying to translate it in my head but i am guessing it is just taking 2 triangles / sides and inking them together

MobileRez replied to MobileRez's topic in Discussion

that makes sense. I think I will do that, finish the v on front, so I have the first piece together then do the 45 degree weave for the shoulders with a row down the 2 sides, then attach everything so it can hang, looks like I am tool shopping tomorrow before I start the pointseta.

MobileRez replied to MobileRez's topic in Discussion

Good to know. I'm worried now I've made the part before the v starts not long enough. I'm also stuck debating on how to do the rest in my head. Do I fully complete the front and then do the back. Do I complete the v in front. Add a few rows and them work on the shoulders and pauldron (?) then do the back to the same length and stich the two sides together this far and work down... I get the feeling I'm over thinking this and worries about how it's got to lay too much. My scale lotus leaf and pointsetia kits come today so perhaps it's best I hunt down a suitable pliers and work on those for a change of pace... What are both of your thoughts?

MobileRez replied to MobileRez's topic in Discussion

Depending on the government that's not that close.... I did one side just the outline and another side actually doing each row and it's interesting how they are laying differently. I assume this is to be expected since the side that's just the neck outline is not as stabilized as the side with the rows?

MobileRez replied to MobileRez's topic in Discussion

I'm working on making the neckline where the left and right sides join in the front first. But I'm not sure how to judge if I've angled the scales right as I'm working the 2 sides together. (See picture of where I'm at so far) I'm trying the diamond shaped but when I get the rings aligned I struggle with orentation and end up getting them on backwards and I think I reverse it and instead do the same thing, even when sliding the ring on, but it's not happening as often. I so have plans to make a duck tape dummy of the torso for one of the 2 models this week ( I need more ducktape first) but I'm also worries about the mold collapsing as I work with it.

MobileRez replied to MobileRez's topic in Discussion

I figured their might be more on the spectrum doing this work l, you just don't hear much about it it's always coding or something like that. The temp hangers to keep the scales organized that I made from twist ties are starting to not like the weight of the scales. I still have the left and right side separated so I'm not sure if transfering to a coat hanger with some rings pushed into it is a good idea yet to manage and keep the 2 sides apart. What do you do in this stage? Do you just not keep on anything or do you have something that keeps the scales manageable?

MobileRez replied to MobileRez's topic in Discussion

Thanks for this info. And yea the jump welder is not something I knew was out there, and I'll have to look into especially if I do get into this professionally. Right now it's just more of "who has x skill and can do y". That 10x strength is also good to know about and seems stupid to not take advantage of. But also means if I need to make adjustments that I'd have to cut apart the ring unless there is some way to unweld like there is in soldering. I want to use up the rings I have. But the next ring order I'm either going to go with something I weld with what you showed above or at the very least, the rings you mentioned me getting for future Titanium scale piece work. I assume there's not much besides welding that I can do to decrease the scratching from the split rings when wearing it. I made extra space with my measurements as so there is room for clothing underneath besides the normal little extra room for wear. I've also enjoyed just sitting at different places with my scales and rings and just working a bit and the conversations that come up with individuals because of it has been nice to have especially right now. Lots of people I know are interested to see how my first project turns out. And on my part I am excited to see how it fills out especially when it comes to the joining of the 2 sides. And I appreciate the advice you have given and the opportunity to lean form those with more experience than myself (it's too bad there are not apprenticeships for this thing anymore, this seems like something I would of like to do as a job beyond just for fun and compliments how my autism has manifested it's self)

MobileRez replied to MobileRez's topic in Discussion

I guess I may not know what to search for right away but good to know. I was thinking about filming the process. And I say fighting loosely as I have 2 day jobs and one is doing audio for film and one of the independent groups probably will have me start doing costuming and some of the actors really go at it. I think one did MMA fighting or something like that. Normally I'd put the work off to people like yourself who know what their doing, but there's not much for the film industry where I live in this realm and I have not had much luck with the aca kingdom that our state is a part of. The other job means I'll probably be reaching out to people to do interviews with this sort of thing and talk about their experiences, getting into the craft, etc.

MobileRez replied to MobileRez's topic in Discussion

I did something similar when I turned 21 when I first started drinking. And apparently according to the Canadians I know I was drinking crown royal wrong as well. But alcohol aside, I would not of thought or known about this and that I was using not as good scales. ( I have planned to do more titanium scale work, though my wallet I not happy with me about the price) So here's where I sit and would appreciate your advice on this. I originally ordered split rings because I wanted the strength and if the person needs to be able to fight in it and not have it pull apart on the person wearing it. I don't have access to a welder and my landlord would not allow it, so I'm stuck with split or butted. I found the rings your talking about but just now trying to figure out how to order from the website which is not designed for phone use. Is there a chart that shows what grade ring to use with metal scale type? Since there are no patterns, what guides or things should I be looking for and keep testing on the person who it's being made for (not me) one if the instructions mentioned I may have to do contractions but not sure why I'd need to or how I'd know. It's also detailed about the joins for the shoulders but not where the piece joins under the arm? Do I just keep going in a circle and join the 2 sides once I get to where it starts closing up under the arm? That said I know that I want to make the shoulders like the picture shown on page 18 of the scale PDF provided on https://sites.google.com/site/thehappybarbarianhordelands/scale-tutorial. I'm already doing a 4 in 1 weave apparently though I don't remember hearing a name for the weave I was following and it seems that is what was used for that as well which looks like a combo 45 degree link with the opening covered as shown on page 10. I assume I can still do this with the split rings? Any other advice as I work and progress you would like to pass along either with the aluminum or Titanium rings or when measuring and working with sizing a person? Thanks. P.s. I've been asked if I could make a kilt and a dress out of scales. I have no idea how to ever respond to that question and if it's possible how I'd do it...

MobileRez replied to MobileRez's topic in Discussion

Thanks for the suggestion and good to know. I actually ended up doing the sliding technique you mentioned and my speed quadrupled to how it was starting out.image below is where I am at after 3 days of working and starting over twice. The second color is made from the titanium scales because of the color and what was requested. I'm still unsure if I want to switch to the butted rings or not.

MobileRez replied to MobileRez's topic in Discussion

I didn't even see that there was a pliers section on the site... shoot! Guess ill have to throw that on my next order...